Rosa Damascena Oil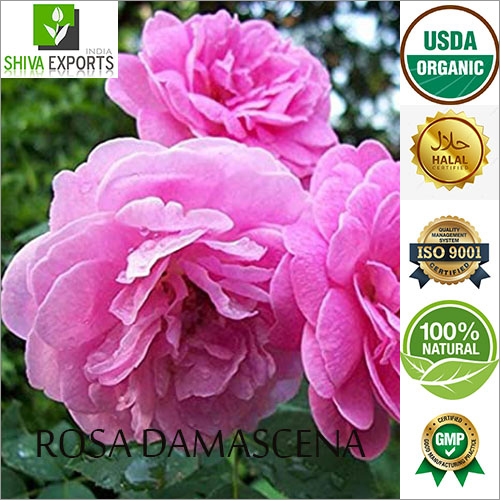 Rosa Damascena Oil
Price And Quantity
, Kilograms/Kilograms

150.00-4500.00 INR
Product Specifications
clear pale yellow liqid

8007-01-0
Sweet Rose Floral

Pure Essential Oils
Fragrance Compound

5 Years
Product Description
Rosa Damascena Oil/Rose Oil

It can help clear up acne.

Rose oil has powerful antibacterial properties, along with anti-inflammatory properties. When acne is present on the face or body, the spreading of bacteria can worsen the issue. However, diluted solutions of rose oil have the strength to kill acne-causing bacteria. The anti-inflammatory properties it contains can also help to calm down redness and irritation that sometimes coincides with acne.

It has anti-inflammatory properties.

One of the possible rose oil benefits centers around the fact that the oil has strong anti-inflammatory properties that can be beneficial to the skin. This oil may be diluted or rubbed directly into the skin. This may help with certain skin conditions where inflammation is present. However, it may also help to relieve symptoms associated with arthritis.

It can help reduce symptoms of menopause.

Due to the healing properties present in rose oil, some researchers have suggested that this oil may help to balance hormones in women that are experiencing menopause. This could include helping to alleviate mood swings, hot flashes, and pain associated with menopause. This oil can be diluted and massaged onto the body.

It is a laxative.

When rose oil is diluted with water and taken internally, it acts as a laxative. This may prove to be beneficial for those who are experiencing unwanted constipation symptoms or are wishing to remain regular. The rose oil works by relaxing your digestive muscles.

It contains anti-viral properties.

One of the rose oil benefits is that it may help you ward off symptoms of the cold and flu virus. It may help to boost your immune system to help you fight off symptoms more quickly, as well. Rose geranium oil works so well as an antifungal, antiviral, and antimicrobial that the food industry uses it as a preservative in some instances.

It helps to relieve symptoms of stress and anxiety.

Rose oil boasts many properties. One of which is helping to relieve symptoms of stress and anxiety. This could be due to the various properties or the pleasant aroma acting as a mood booster for certain individuals. When rose oil is applied to the skin, the skin has no problem absorbing it. Researchers have proposed that this can cause a person to feel more calm and relaxed.

It can help to prevent wrinkles.

Rose oil will not just possibly help to clear up your acne, it may also help in preventing wrinkles as well. This is because rose oil contains essential fatty acids and important vitamins that the skin needs, but often lacks. Vitamin A, which is found in high concentrations in rose oil, helps to increase cell turnover rates. This can, in turn, help to fight the development of wrinkles.

It can help to strengthen and moisturize hair.

Rose oil is lightweight, making it perfect for using on your hair. Massaging this oil into your scalp may help to make your follicle more likely to grab onto the root. It is the perfect addition to your morning routine to add shine and moisture to your hair to keep it looking healthy, without it appearing greasy.

It can help to relieve muscle cramps.

Many women experience abdominal cramping as part of their menstrual cycle. Rose oil may help with these symptoms due to its healing properties. Rose oil may also help relieve muscle cramps for other ailments, including running injuries, when coupled with other treatment options.

It is an antiseptic.

Rose oil contains many important vitamins, minerals, and antioxidants that are vital for the skin. This may help with wound care or soothing irritated skin. These properties can help protect the largest organ of the body, which is the skin.

The properties that rose oil contains can prove to be beneficial. If you are suffering from various skin issues, rose oil may be the answer you are looking for. Making rose oil part of your regular skin care routine could help with acne, redness, and irritation.

Rose Oil Benefits: Uses of Rosa Damascena

Rose oil is an essential oil that comes from a rose plant and contains many important vitamins and minerals that are essential for the body and skin. This array of essential nutrients and antioxidants is at the forefront of what gives rose oil so many beneficial properties. These antiseptic and anti-inflammatory properties can help to relieve your skin of irritation, as well as fight signs of aging. Listed below are possible rose oil benefits.
Trade Information
Within a certain price range free samples are available

Aluminum Bottle, GI Drums
Asia, Australia, North America

All India
ISO 9001:2015 , GMP, USA Organic
Contact Us
Plot No.35, Farsh Road, Near Baba Gauri Shankar Road, Kannauj, Uttar Pradesh, 209725, India
Phone :+918037549264